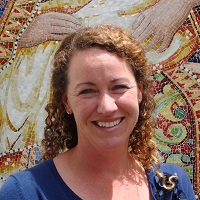 Jesus commissioned the Apostles to "go…make disciples of all nations…" (Mt 28:19). He entrusted this mission to us when we first brought our children before Him to be baptized. Children learn their spirituality, first and foremost, from their parents by what they see us do and what we involve them in – daily prayer, grace before meals, service to others, going to church as family and being involved in parish life.
As a parish faith community it is our privilege and responsibility to support parents in this important ministry.
Please stop by and introduce yourselves. If I can be of any assistance, feel free to contact me, Cary Gould, CRE Coordinator in the Ministry Center at (619) 435-3167 ext. 306 or email me at cre@sacredheartcor.org.
Sunday Preschool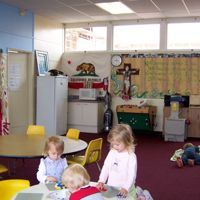 Join us for Sunday School in the Kindergarten Room of Sacred Heart Parish School.

Children 2-4 years old are welcomed to join us during the 9am Mass to play and pray the Sunday Gospel with Miss Pearl.

Complete a short Emergency Card at your child's first visit. Cost is $50/child.
Children's Liturgy of the World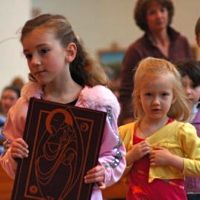 All children in grades Kindergarten through 3rd are invited to join in the Children's Liturgy of the Word during the 9:00 a.m. Mass.

Readings are adapted for children, and a reflection helps the children understand the readings for the day. The children rejoin their families in the church at the time of the Offertory.

New volunteers are welcome to participate, and training is provided. Leaders currently serve once every five weeks.
Grades K-6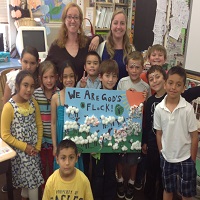 Children's Religious Education (CRE) for grades K-6 meet on Sundays from 10:25 to 11:45 a.m. on the school campus. This class time enables you and your child to participate in mass as a family.
Curriculum
Religious Education is a lifetime journey that continues to enrich, nourish and guide us, not just for Sacramental preparation, but for growth in our life of faith, to follow Jesus and his teachings.
Our Kinder through sixth grade uses the Loyola Press' Christ Our Life 2016 New Evangelization program. If you would like more information about the program we use please visit www.loyolapress.com to explore its content and introduce your children to the games and activities available to them.
Cost
Registration for Religious Education covers books, supplies, craft materials, seasonal activities, and related expenses. Please include your payment of $100/child (before August 31st it is $75/child) with registration.
Sacrament Preparation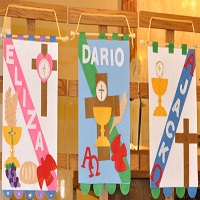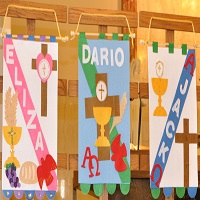 Sacramental Preparation Programs for First Eucharist and First Reconciliation
Sacramental Preparation is typically a 2 year process. The first year provides a basic foundation of teachings and principles of the Catholic way of life. The 2nd year includes specific preparation and celebration of the sacraments.
Requirements for Sacramental Preparation
Baptismal Certificate
Fee of $60 in addition to Registration Fee of $100/child (before August 31st it is $75/child)
Children must have completed one year of Faith Formation or one year of Catholic School Education.
At least one parent is required to attend the Parent Sacrament Orientation meetings.
Children should attend all regularly scheduled classes.
Please make program dates and requirements a priority to ensure your child is well prepared to receive the Sacraments of Eucharist and Reconciliation this year.

There are 2 options to celebrate First Reconciliation in January/February. First Holy Communions are celebrated at weekend Masses in May selected by the parents.