Children's Religious Education – "CRE"

Preschool – 6th Grade
CRE serves our Registered Parish Families

3-6 years old – Catechesis of the Good Shepherd Level 1CGS Brochure

Kinder- 6th Grade – Classes meet Sunday mornings from 10:25-11:45am at our Parish School. These classes serve our registered families whose children do not attend Catholic School.

Currently our CRE classes are at capacity. If you are relocating, or plan to relocate, to Coronado within thirty (30) days, please contact Cary Gould, Coordinator of Religious Education at (619)435-3167, ext. 306 or cre@sacredheartcor.org

Middle & High School Youth – Visit our Youth Page or contact Katherine Soper at (619) 435-3167.
New Parishioner Registration

Faith Formation Fees: Use Faith Direct or Check payable to Sacred Heart

CRE: $100 per child ($75 if registered before August 31)
Middle/High School Youth Ministry: $100 per child

Sacrament of First Reconciliation and First Holy Communion Preparation:

"Preparation for the Sacraments actually began before your child was even presented at church for Baptism. It has been fostered by every prayer spoken, nourished at every meal shared, told in every Bible story proclaimed, found in every act of forgiveness, every act of charity and love shared, and every liturgy attended. These acts of faith all help children form a relationship with Jesus and with the church." (CGS)

Sacrament Preparation through Sacred Heart Parish is one part of an ongoing faith formation at home and in Parish life. Sacrament preparation for First Reconciliation and First Holy Communion includes two years of formal preparation through the Parish, in conjunction with the guidelines of the Diocese. The first year provides a basic foundation of teachings and principles of the Catholic way of life. The second year includes specific preparation and celebration of the Sacraments.

The minimum requirement is that children are concurrently enrolled in CRE Sunday morning classes and should be observing the Sunday Obligation attending Mass.

Sacrament Preparation Fees (Second Year Only): $60 per child

Middle School – 6th Grade – Old Testament study with Mrs. Vicki Sheridan (this is the traditional class that meets Sunday mornings at School)

Please sign up for Flocknote so we can keep in touch with you.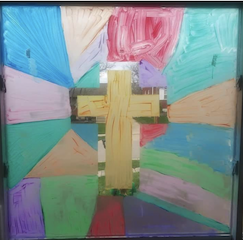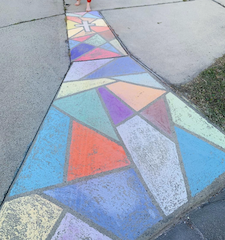 *
Make your unleavened bread
*Watch
The Triumphal Entry Video (3 minute video for kids)
*Print the Mass Worship Aid (will be a longer Mass)
*
Watch/participate in
Palm Sunday Mass
*Make a table/altar setting special by using a

RED table cloth

, add a Bible, candle, rosary, crucifix

*Have washable window paint or sidewalk chalk?…make Stained Glass Art for Holy Week
Prayer Intentions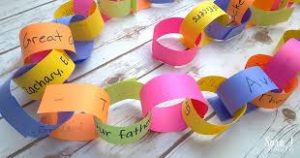 Stations of the Cross

1) Print and Color Stations of Cross booklets:
Stations of the Cross Coloring Book
(Take it a step further) Montessori Station idea- stations-of-cross-montessori-activity

2) Watch "stations of Cross" video
Video of Stations of Cross and meditations –
Stations of the Cross for Kids Video

3-Take walking trip (with your booklet) to visit, and pray the Stations of Cross at Sacred Heart Prayer Garden (or in the Church).

Bread Making