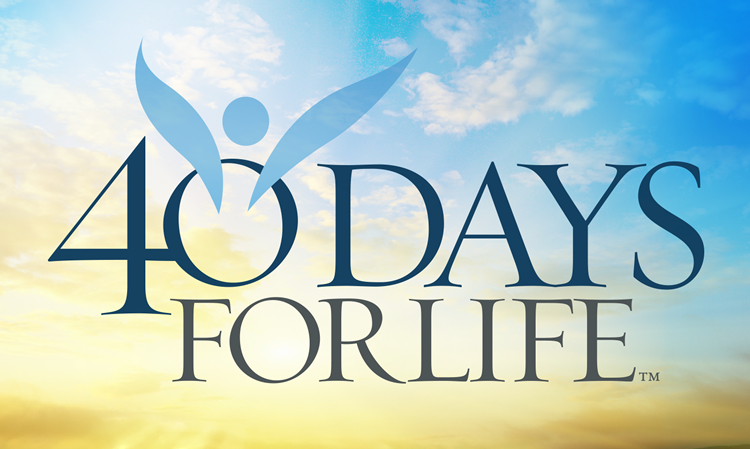 03/06/2019 - 04/14/2019
All Day
Sacred Heart Pro-Life and San Diego Pro-Life Friends,
The next 40 Days for Life will be March 6 – April 14
40 Days is a focused pro-life campaign with a vision to access God's power through prayer, fasting, and peaceful vigil to end abortion. Our presence at abortion mills is a key way to weaken the abortion industry and 40 Days for Life is a peaceful, legal way to be present and witness to Life.
If you have an hour to spare and will stand in prayer, there are several San Diego locations listed below. Prayer materials are provided at the site, but bring your rosary. Thank you. And please pray daily to end the need for abortion and for the conversion of hearts.
Planned Parenthood – Mira Mesa Health Center
10737 Camino Ruiz, Unit 220
San Diego, CA 92126
Please Note: We will pray on the sidewalk on Mira Mesa Blvd closest to the driveway between IHOP Restaurant and Luna Grill/Starbuck's
Planned Parenthood – Chula Vista
1295 Broadway
Chula Vista, California
South Bay is a Peaceful Prayer Vigil for 24 hours each day for the 40 days of the Campaign. We are on the sidewalk near the corner of Broadway and Palomar in Chula Vista (mostly near the bus stop on Broadway). We are praying there because it is a public right of way near… Park across the street, not in the Genesis Center parking lot. It is OK to park near the McDonald's or the Jack-In-The-Box and cross the street to join us.
____________________________________________________________
To find a location, go to https://40daysforlife.com/browse-campaigns/
Priests for Life: "Many people go out of their way to avoid talking or thinking about abortion. Yet we have to get a substantial number of people focusing on the problem in order to end it. Therefore we have to put ourselves in their path, which is exactly what we do by having peaceful, First Amendment gatherings and communications in the public forum. Literature distribution, Life Chains, demonstrations, parades, rallies, and similar events can spread the pro-life message."
"Yet it is not only a matter of giving a message; it is also a matter of intervening directly to save lives at the places where the killing occurs. Presence at abortion mills is a key way to weaken the abortion industry."