Welcome to Sacred Heart Parish Faith Formation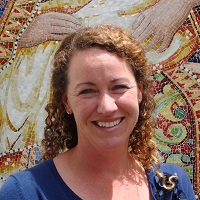 "At the heart of catechesis we find, in essence, a Person, the Person of Jesus of Nazareth, the only Son from the Father…full of grace and truth…" (Apostolic Exhortation Catechesi Tradendae of Pope John Paul II).
Sacred Heart Faith Formation develops and supports a life-long relationship with Jesus Christ in the Catholic Tradition.
We offer programs and opportunities for all ages, from Children's Religious Education to Youth Ministry, Young Adult and Adult Formation and Spiritual Enrichment.
Parish life, prayer and worship, service and outreach all inform our faith and invigorate our discipleship. The call to holiness is universal (Vatican II) and we answer that call as we follow Jesus and grow together in faith and friendship with Him and one another here at Sacred Heart Parish.
I hope you find something that appeals to you. And of course, you are always welcome to bring a friend.
In Christ Our Joy,
Cary Gould
Director of Catechetical Ministry
FOR CHILDREN:
Katherine Soper, Children's Religious Education Coordinator
Parents, first and foremost, begin this important task when they bring their child forward to receive the gift of faith through Baptism. They are their child's first teachers, nurturing faith within their homes, a place so special that the Second Vatican Council refers to it as the "domestic church."
Sacred Heart parish recognizes and shares in this important ministry by providing a formal program of religious education and sacrament preparation to support parents and their children. Weekly classes usually begin at the age of five or six, with two years of preparation ideally preceding the reception of the sacraments of Reconciliation and First Communion, typically celebrated in 2nd grade and Confirmation, typically celebrated in 10th grade.
FOR YOUTH:
Katherine Soper, Middle & High School Youth Coordinator
"What is needed today is a church which knows how to respond to the expectations of young people. Jesus wants to enter into dialogue with them and, through his body, which is the church, to propose the possibility of a choice, which will require a commitment of their lives. As Jesus with the disciples of Emmaus, so the church must become the traveling companion of young people…" (Pope John Paul II, World Youth Day 1995, Philippines)
The church must become the traveling companion of young people—and that is what we mean by youth ministry. If, indeed, "it takes an entire village to raise a child," then it certainly takes an entire church to journey with young people as they grapple with the Good News and respond in discipleship.
As their companions on this spiritual journey, our parish Youth Ministry strives to…
Proclaim the Good News of Jesus through witness and word to young people.
Enable young people to live as disciples through their involvement in service, ministry, and leadership opportunities.
Provide young people the faith skills for discipleship.
FOR ADULTS:
The fundamental focus of adult faith formation is to provide avenues for fostering spiritual growth, theological reflection, and Christian practices within and beyond our faith community.
Above all – Charity
The whole concern of doctrine and its teaching must be directed to the love that never ends. Whether something is proposed for belief, for hope or for action, the love of our Lord must always be made accessible, so that anyone can see that all the works of perfect Christian virtue spring from love and have no other objective than to arrive at love – Catechism of the Catholic Church (prologue).