MIDDLE & HIGH SCHOOL 707
summer events calendar
July 28: High School Visit to Mission Basilica San Diego de Alcalá (12-3pm)
July 30: Middle School Bonfire on the Beach at North Beach (6-9pm)
August 6: Middle & High School Spread the Love Community Service in Parish Center (10am-3pm)
August 11: High School Sermon on the Mount Hike at Torrey Pines (9am-12pm)
August 12: Middle School Sermon on the Mount Hike at Torrey Pines (9am-12pm)
August 15: COR Team Applications Due
August 21-22: Registration for Faith Formation/Sacraments
August 29: COR Team Retreat in Parish Center (1pm-5pm)
For more information, visit the parish events page!
Registration for Middle School and High School Students is NOT open at this time.
Specific to Teens:
6th Grade:
Old Testament study with Mrs. Vicki Sheridan (meets Sunday mornings at parish school)
"Gospel Weeklies" Easy to use at-home weekly leaflets/lessons, that connects the Sunday Gospel to doctrine, using current events, interesting activities, discussion questions to help children see the relevance of the Gospel to their lives.
7th – 12th Grade:
High School 707 Youth Group on Sundays from 7:07-8:30pm
Middle School 707 Youth Group on Wednesdays from 7:07-8:30pm
Saturday 5:00pm Mass with Youth Band (meet in the Church at 4:00pm to rehearse music)
Seasonal Fellowship Events (see calendar above)
11th Grade – College Age:
COR Peer Leadership Team (apply

HERE

)
College Age Activities:
Sign up for our Family Faith Formation Program!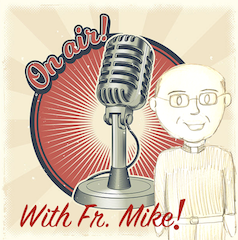 Fr. Mike Answers Confirmation Candidate Questions
Part 2: Fr. Mike Answers Confirmation Candidate Questions