Through the Eucharist, the community is united at the Lord's table; is reminded that Christ lived, died, and rose for our salvation; and is nourished by His true presence for the journey each member walks with Him.
Sacramental Preparation Programs for First Eucharist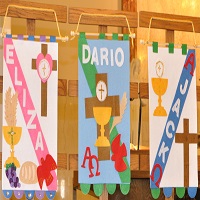 Sacramental Preparation is typically a 2-year process. The first year provides a basic foundation of teachings and principles of the Catholic way of life. The 2nd year includes specific preparation and celebration of the sacraments.
First Holy Communion registration can be found here.