Preschool – 8th Grade
CRE classes serve our Registered Parish Families
whose children do not attend Catholic School.
3 years – Kinder – Catechesis of the Good Shepherd Level 1
1st – 6th Grades – Meet Sunday mornings from 10:25-11:45am at our Parish School. Children enrolled by grade-level.
7th & 8th Grade – Classes meet Sunday mornings from 10:30-11:45am in the Youth Room/Grotto and includes "707" Social Nights (selected Wednesday nights).
High School Youth/Confirmation – Visit our Middle School & High School Youth page
Registration for all CRE/Youth & Sacrament Preparation (Reconciliation, Holy Communion, and Confirmation) is online by clicking the 'Register Here' button and will close on September 10th!
CGS-Catechesis of the Good Shepherd
(Level 1: 3 year old-Kinder)
CGS Formation Fee $150 – use "Faith Direct" or make check payable to Sacred Heart
Contact:
Cary Gould, DCM
dcm@sacredheartcor.org
(619) 435-3167, ext. 302
CRE (1st – 6th Grade)
CRE (Children's Religious education) program seeks to nourish a growing faith by providing formal religious education and formation in the teachings and principles of the Catholic way of life for children PreK-8th grade.
CRE Formation Fee $100 per child ($75 if registered before August 31st) – use "Faith Direct" or make check payable to Sacred Heart
Sacrament Preparation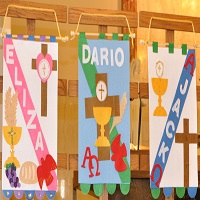 "Preparation for the Sacraments actually began before your child was even presented at church for Baptism. It has been fostered by every prayer spoken, nourished at every meal shared, told in every Bible story proclaimed, found in every act of forgiveness, every act of charity and love shared, and every liturgy attended. These acts of faith all help children form a relationship with Jesus and with the church." (CGS)
Sacrament of First Reconciliation and First Holy Communion Preparation:
Sacrament Preparation through Sacred Heart Parish is one part of an ongoing faith formation at home and in Parish life. Sacrament preparation for First Reconciliation and First Holy Communion includes formal preparation through the Parish, in conjunction with the guidelines of the San Diego Diocese.

Parent AND Child Preparation – Sacrament Preparation classes meet once a month (on a Tuesday night) with at least one parent AND child (see "Important Sacrament Preparation Dates" box below). Additionally, families sign up to participate (bringing up the gifts) in one Mass during the year.
Guidelines for First Holy Communion Candidates:
• Registered Parishioner at Sacred Heart Parish
• Regular attendance at weekly Mass
• Baptized in Catholic Faith
• Age seven (7)
• Completed (regular attendance) at least one year of faith formation/CRE classes/Catholic school
• Concurrent enrollment and regular attendance in CRE Sunday Classes
First Reconciliation is celebrated in late January before First Communion.
First Holy Communions are celebrated at designated Masses in the month of May.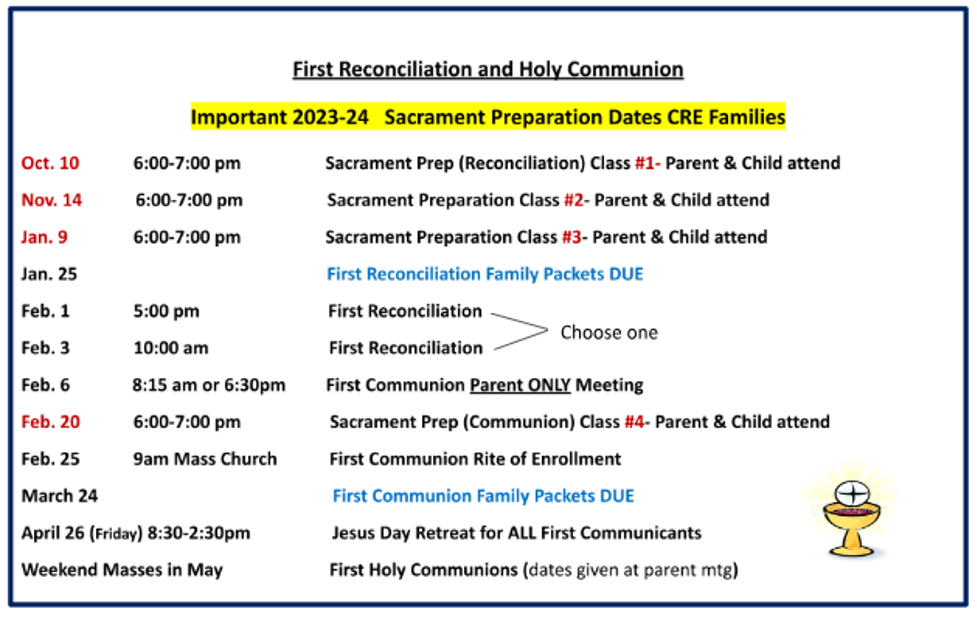 Sacrament Registration (Reconciliation/Holy Communion) Fee $60 – use "Faith Direct" or make check payable to Sacred Heart
Middle School "707" (7th & 8th Grade)
Middle schoolers are in a time of significant social and emotional growth. They are in transitional years where they crave freedom and need to develop interpersonal relationships with other kids their age and adults who are not their parents. We have an opportunity to help them navigate this challenging time while they grow in their faith and connectivity to their parish community.
"707 Sundays" – **Sundays – 10:30-11:45am, Youth Room (behind the church)
"707 Social Nights" – Wednesdays twice/month 7:07-8:30pm (Parish Center)
"707 Sundays" provides 7th & 8th graders ongoing faith formation. Students will "tackle" topics relatable to Middle School ages that invite students to gain essential social and emotional skills and deepen their awareness of themselves as they mature in their Catholic faith.
**Participation in the "707 Sundays" provides the "Year 1" foundation for those 8th graders wishing to continue preparation for Confirmation in High School.
• 7th & 8th Grade "707" Formation Fee $150 per child – use "Faith Direct" or make check payable to Sacred Heart
Contact:
Katherine Soper
Coordinator of Children's Religious Education and Youth
cre@sacredheartcor.org
Phone: (619) 435-3167, ext. 316