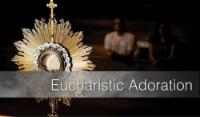 12/14/2018
6:00 pm - 7:00 pm
Sacred Heart Catholic Church
655 C Ave
Coronado, CA 92118
The Young Adults Ministry will host Adoration before the Blessed Sacrament on the second Friday of every month from 6pm-7pm. While this is hosted by the YAM, all are welcome!
Visit the Young Adults Ministry page for more information.