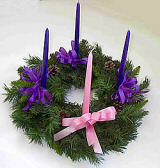 11/05/2017 - 11/20/2017
All Day
Sacred Heart Catholic Church
655 C Ave
Coronado, CA 92118
Sacred Heart Youth Ministry invites you to celebrate the season!
Advent begins on Sunday, December 3rd, 2017
Advent Wreaths (Suggested Donations)
One wreath (artificial OR fresh) & candles = $25
Two or more wreaths (artificial or fresh) & candles = $22 each
Fresh wreath only = $12
Candles (set of 4) only = $4
Pre-orders due to Ministry Center no later than Monday, November 20th at 4PM.
Pick-up at Ministry Center Monday, November 20th – Friday, December 1st.
All proceeds benefit the Youth of our parish. Thank you for your support!
Questions? Call (619) 435-3167, ext. 311 or email youth@sacredheartcor.org