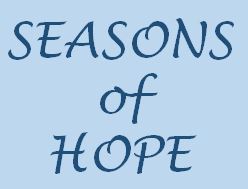 06/06/2018
3:00 pm - 5:00 pm
Sacred Heart Catholic Church
655 C Ave
Coronado, CA 92118
Seasons of Hope will meet for three consecutive weeks. Any parishioner who is mourning the loss of a loved one is encouraged to attend and invited to bring a guest. Please join us each week.
The ideal is for the group to start and end the three week journey together. If you cannot attend Week 1, or might have to miss more than one week, please discuss with us in advance.
Registration and additional information contact:
Carol Zinser
619-322-9288
carolannzinser@gmail.com