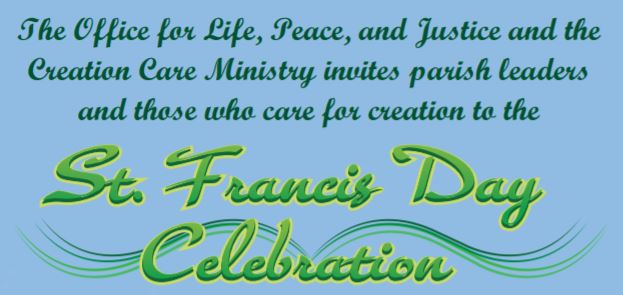 10/05/2019
10:30 am - 1:30 pm
Diocese of San Diego Pastoral Center
3888 Paducah Drive
San Diego, CA 92117
Come to the St. Francis Day Celebration on Saturday, October 5th, at the Pastoral Center!
The Creation Care Ministry invites all parishioners to a free, diocesan-wide celebration of St. Francis' Feast Day on October 5th from 10:30 AM – 1:30 PM at the Diocesan Pastoral Center.
Join us in celebrating all the good works going on to implement the message of "Laudato Si – The Care of Our Common Home," Pope Francis' encyclical on the morality and spirituality of protecting the gifts of creation.
Visit https://www.sdcatholic.org/sfd to register yourself, group, or parish.
Email Father Emmet or call 619-419-8345 for more info.
Complimentary food and drinks.
All are welcome!