| | |
| --- | --- |
| | The Knights of Columbus meet the second Wednesday of the month in the Parish Center. |
| | Catholic Officers meet at 5:00PM followed by the general meeting at 6:00PM. |
| | All Catholic men are invited to attend our general meetings. |
WHY YOU SHOULD BECOME A KNIGHT!
You can make a significant difference in the lives of others by joining your brother Knights in service to our Lord; supporting your parish, families and community. Our brother Knights are in need of young Catholic men, professionals, working men, and men with families; building a bridge back to faith. You are our future leaders. When we add the years of experience of our long-time Knights to the enthusiasm and energy of our young members, we can accomplish so much more. There's much work to be done and just an hour here and an hour there of your time is all it takes to help us serve our parish, families and community. We invite YOU to take your first step by joining the world's largest Catholic brotherhood and becoming an Ambassador for our faith.
WHAT WE DO!
We Support Our parish School, Church, and Organizations
We Help meet the needs of those in our community
We Provide "Coats for Kids" and "Food for Families"
We Support programs that benefit people with intellectual disabilities
We Aid victims of natural disasters and other catastrophic events, local and worldwide
We Donate wheelchairs to people without mobility at home and abroad
We Save lives through initiatives such as the "Ultrasound Program"
We Provide financial support to local seminarians.
We Provide Spaghetti Dinners and Pancake Breakfasts to our parishioners during the year
We Serve dinner to the homeless at Fr. Joe's Village
We Provide top rated insurance products that protect you and your family and much more
By working together Knights of Columbus last year donated over $185 million dollars and contributed over 76 million hours to charity.
BRIEF HISTORY OF THE KNIGHTS OF COLUMBUS
The Knights of Columbus is the world's largest Catholic fraternal service organization. Founded in 1882 by Fr. Michael J. McGivney in New Haven, Connecticut, it was named in honor of Christopher Columbus, celebrating his many achievements and how he "gave voice and representation to generations of Catholics, helping pave a path for the diverse society we have today."
Originally serving as a mutual benefit society to working-class and immigrant Catholics in the United States, it developed into a fraternal benefit society dedicated to providing charitable services, including war and disaster relief, actively defending Catholicism in various nations, and promoting Catholic education. The Knights also support the Catholic Church's positions on public policy issues, including various political causes, and are participants in the new evangelization.
Fr. Michael J. McGivney, an Irish-American Catholic priest, founded the Knights of Columbus in New Haven, Connecticut. In early 1882 he gathered a group of men from St. Mary's Parish for an organizational meeting. He had two goals for the new group: (1) to provide assistance to widows and children when a family breadwinner died, and (2) to provide Catholic men with a fraternal association that would draw them closer to their Catholic faith and to one another. Although its first councils were all in Connecticut, the order spread throughout New England and the United States.
During the World War, Supreme Knight James A. Flaherty proposed to U.S. President Woodrow Wilson that the order establish soldiers' welfare centers in the U.S. and abroad. The Knights of Columbus slogan was, "Everyone Welcome, Everything Free," the "huts" became recreation/service centers for military personnel regardless of race or religion. The centers provided basic amenities not readily available, such as stationery, hot baths, and religious services. After the war, the Knights became involved in education, occupational training, and employment programs for the returning troops. As a result of this, the Order was infused with the self-confidence that it could respond with organizational skill and with social and political power to any need of Church and society. In this sense, the Knights of Columbus reflected the passage of American Catholicism from an immigrant Church to a well-established and respected religious denomination which had proven its patriotic loyalty in the Great War.
Pope John Paul II referred to the order as the "strong right arm of the Church" for their support of the church, as well as for their philanthropic and charitable efforts. In 2018 The Knights gave more than $185 million directly to charity and performed over 75 million man-hours of voluntary service.
The Knights are also well known for their insurance products including permanent and term life insurance, as well as annuities, long term care insurance, and disability insurance. The insurance program is not a separate business offered by the order to others but is exclusively for the benefit of members and their families.
The order's insurance program is the most highly rated program in North America with more than 2 million insurance contracts, totaling more than $100 billion of life insurance in force. This is backed by $21 billion in assets as of 2014. This places it on the Fortune 1000 list.
As of 2018 there are more than 1.9 million members around the world. Membership is limited to practicing Catholic men aged 18 or older. The order is dedicated to the principles of charity, unity, fraternity, and patriotism. A man joins the order by contacting the Membership Director, who will answer any questions the candidate may have regarding the Knights of Columbus and he will email an application to the candidate. The candidate will complete the application, sign it, and email it back to the Membership Director. The application will be forwarded to the Admissions Committee for review and it will be read at the next business meeting. The candidate will be invited to attend the next business meeting so that he can introduce himself and be voted in as a member pending the completion of the Exemplification Ceremony. The candidate will be provided dates and times of upcoming Exemplification Ceremonies and will select one to attend. Upon completion of the Exemplification Ceremony, payment of dues and the signing of the constitutional roll, the candidate becomes a 3rd Degree Knight and Council member in good standing.
Emblem of the order
The emblem consists of a shield mounted on a Formee cross, which is an artistic representation of the cross of Christ. This represents the Catholic identity of the order. Mounted on the shield are three objects: a fasces; an anchor; and a dagger. In ancient Rome, the fasces was carried before magistrates as an emblem of authority. The order uses it as "symbolic of authority which must exist in any tightly-bonded and efficiently operating organization." The anchor represents Christopher Columbus, patron of the order. The short sword, or dagger, was a weapon used by medieval knights. The shield as a whole, with the letters "K of C", represents "Catholic Knighthood in organized merciful action."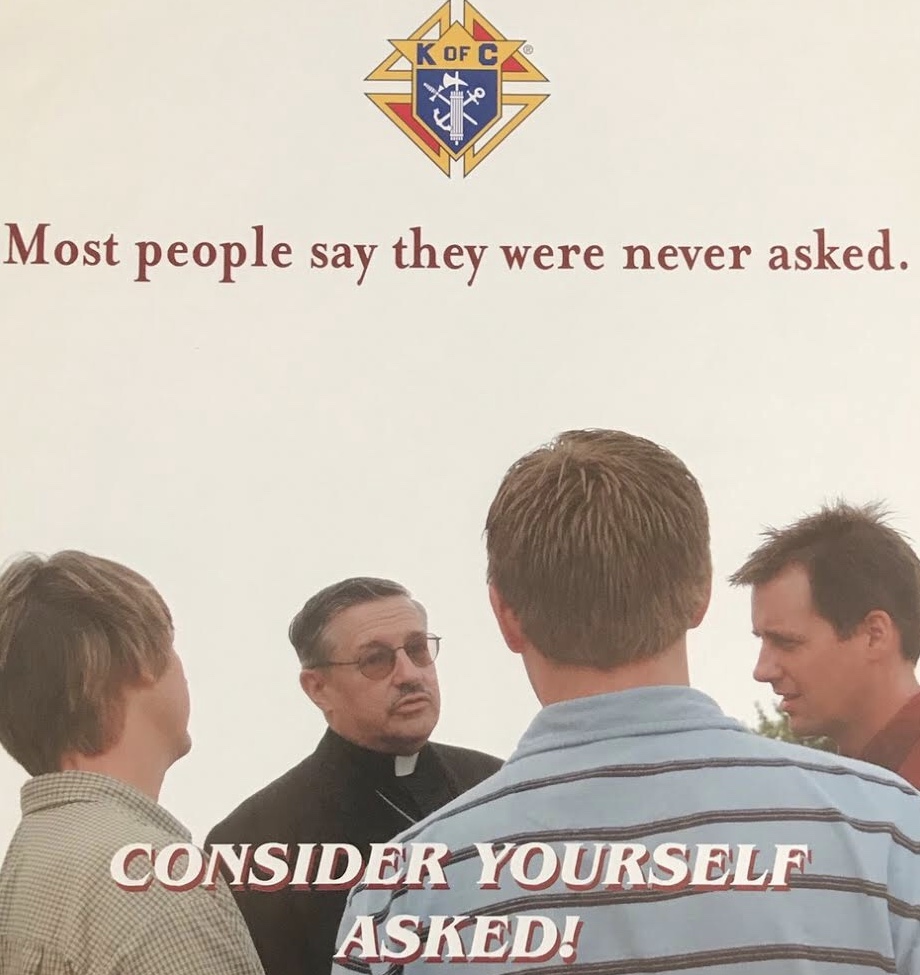 To join us, call Brian Flick, Membership Director at (619) 663-0074 or send email to: Knights of Columbus – Coronado
For general information please call John Scheck, Grand Knight at (619) 663-0074.