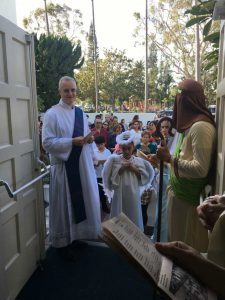 ¡Agradecemos a todos los que nos acompañaron el domingo en la Misa en Español y en la celebración de nuestra Posada!
Gracias a los jóvenes Abelardo, Cristina y Sara, que representaron a San José, María y el Ángel, y nos llevaron a recordar su recorrido hasta Belén la noche del Nacimiento de Jesús.
Gracias a los músicos que nos acompañaron mientras cantamos, Michelle, Elisabeth y Lorenzo, a los niños y niñas del coro, y a Ricardo Marquez que compartió su talento tocando el Cuatro y cantando un villancico Venezolano.
¡Gracias al Padre Mike por apoyar este sueño de conservar y compartir nuestras tradiciones culturales en Coronado!
Y a todas las personas que hicieron posible nuestra Posada ¡MIL GRACIAS!
Imposible mencionar a todos los que nos apoyaron desde la planeación en las juntas, sus donativos de dinero, de comida, bebidas, dulces, piñatas, pero especialmente ¡su hermosa disposición adornando, sirviendo, lavando, recogiendo y recibiendo a todos con una enorme sonrisa, y un corazón desbordando amor, como verdaderos discípulos de Jesús!
¡No cabe duda de que Dios mismo se hizo presente este domingo, y de que es El, Quien sostiene este proyecto de sembrar comunidad entre las familias Hispanas de Coronado y sus alrededores!
~~~~~~~~~~~~~~~~~~~~~Picture Slideshow~~~~~~~~~~~~~~~~~~~~~~~~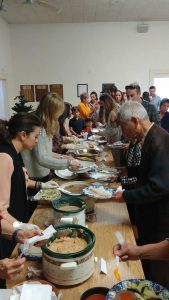 Thank you to everyone who accompanied us at the Spanish Mass and the celebration of the Posada on Sunday!
Thank you to the young ladies and gentlemen Abelardo, Cristina and Sara, who represented St. Joseph, Mary and the Angel and made us remember their journey to Bethlehem on the night of the Birth of Jesus.
Thank you to the musicians that accompanied us while we sang, Michelle, Elisabeth and Lorenzo, and to the boys and girls of the choir, and Ricardo Marque who shared his talent by playing 'el Cuatro' and singing a Venezuelan carol.
Thank you to Fr. Mike for supporting this dream to conserve and share our cultural traditions in Coronado!
And to all the people that made the Posada possible, THANKS A MILLION!
It's impossible to mention everyone that helped from the planning meetings, monetary donations, food, drinks, candy, piñatas, and especially your wonderful disposition to decorate, serve, wash dishes, clean up, and welcoming everyone with an enormous smile, and a heart overflowing with love like true disciples of Jesus!
There is no doubt that God himself was present this Sunday, and that it is He who supports this project of sowing community among the Hispanic families of Coronado and its surroundings!